The Poleiro bar stool is a statement of perfect proportion and design minimalism. The precise proportions, radii and angles that work together in harmony to produce a very simple, yet pleasing silhouette, no matter from which angle they are viewed.
Due to its all carbon fibre prepreg construction the frame of the stool is extremely strong allowing thin sections that seem to almost defy physics, contributing greatly to its dramatic aesthetic.
There are five very different variations of this piece available, from an overhanging extreme to the super minimal. So choosing which variant or combination of complementary variants that best suit your chosen surroundings is easy.
If being one of only five hundred limited editions and having a choice of five different variations isn't exclusive enough, there is a full customisation service on offer to make your set of stools uniquely complement your individual taste and perfectly balance their setting.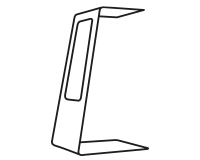 Every aspect of your stool is customisable, from the colour and finish of the carbon surfaces to the range of different styles and materials of trim. Only the highest quality materials are used in trimming your piece, of course, such as soft Connolly leather and Alcantara suede.
Striking on its own, but a making great statement as a matched set the Poleiro stool will complement any modern breakfast or home bar.