Marea is just four millimetres thick at its edge yet is immensely strong due to its all carbon construction. No conventional material has the strength to allow such a structure to take the stresses of use.
Built up of two totally separate carbon sections, anchored together at a critical strain point by the central titanium hub, its rakish profile is almost invisible when viewed from the side and takes the form of the chaise longue to a cantilevered extreme.
Despite its strength, enough flexure has been designed into the laminate to allow the piece to change shape slightly under load.

Due to this dynamic flexure, Marea fits the reclined body perfectly, removing any need for padding, much like the lightweight seats of racing cars.
You can however personalise your chaise with the optional trim offered, not only to complement the aesthetic of the piece but also to protect the highly finished composite surface.
Trim materials are fabricated from high quality products such as Alcantara and Connolly leather in any colour you choose, we can also match your colour sample.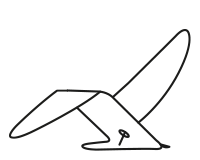 Customisation doesn't stop at the colour of the trim but extends to every aspect of your chaise…
The colour and finish of the carbon surfaces are yours to choose, as is the colour and finish of the titanium hub, which is individually engraved with the build number of your chaise, again, in your colour.
Just fifty individually numbered examples will be meticulously built up, by hand from twenty two layers of three different weaves of carbon fibre prepreg cloth each over the course of several weeks.
No two will be the same.