Inspired by the hammock, the Amaca chaise is inherently very comfortable as it only has one hard point (under the legs) the rest of the body is suspended in a reclined sling that conforms perfectly to the body's shape.
Due to its all carbon construction, Amacas frame is very strong and consequently could be made very thin, almost disappearing from view altogether when viewed from the side, making occupants appear to float.
Despite the inherent strength of the frame it still allows a degree of progressive flexibility, giving a feeling of floating since a rocking motion can be set up with slight body movements, similar to a rocking chair.
Amaca is another individually numbered limited edition piece with just one hundred being produced, so exclusivity is guaranteed. A bold statement indeed in any modern office or living area, but with its elegant lines and clean finish the piece will even complement more traditional surroundings.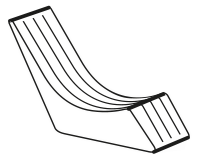 If being just one of fifty is not exclusive enough, there is of course a full customisation programme available to personalise every aspect of your chaise. Custom finishes range from sample matched colours to screen printed company logos.
The choice of materials and colours of the sling and stitching is also yours. Materials include finest Connolly leather and Alcantara suede. Both these are tough and durable but at the same time very aesthetically pleasing and soft, supple and flexible to the touch, making the Amaca chaise a very pleasant place relax for any period of time.